World Ovarian Cancer Day has become an important fixture in the calendar for the ovarian cancer community in Ireland. Like last year, the Emer Casey Foundation was delighted to join with the many organisations and charities in Ireland that promote treatments, care, research and public information in this area. Raising our voices together were Breakthrough Cancer Research, East Galway Cancer Support, GynaeCancerCare at St. James's Hospital, Ovacare, the Irish Cancer Society, the Irish Society of Gynaecological Oncology, the Karen Fenton Fund, the Marie Keating Foundation, the National Cancer Control Programme, SOCK and Trinity College Dublin.
The Foundation was particularly pleased to take part in the World Ovarian Cancer Day event in St. James's Hospital where our support for a part-time physiotherapist post on their GynaeCancerCare team was celebrated. The event also heard from a host of expert speakers.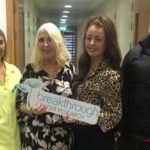 Meanwhile, Breakthrough Cancer Research hosted a WOCD event in Cork which heard from experts in treatment, research and patient care. The meeting also viewed the new Breakthrough Cancer Research video on ovarian cancer signs and symptoms. The video listens in on an open and honest conversation amongt four ovarian cancer patients and is most illuminating. The Cork event was delighted to welcome, Brenda, one of the video participants, and her family.
A further event was held in Ballinsloe and organised by East Galway Cancer Support and the Marie Keating Foundation. And as teal is the colour of ovarian cancer action, the whole country finished the day bathed in teal light. Many thanks to the buildings that took part in the 'Light Up in Teal' campaign including the City Hall, Cork; the Mansion House, Dublin; National Concert Hall, Dublin; the Pearse Lyons Distillery, Dublin; the Titanic, Belfast and University College, Cork. Just look at these amazing pictures!