Please feel free to share our poster with all the details of our annual Youghal 5k Road Race. The race will take place on Thursday evening, 4th April. Runners will start at 8pm and walkers will head off at the earlier time of 6.30pm. Registration will take place at the Youghal Community Centre from 5pm and the cost will be 10 euro. Online registration details will be announced soon. Walkers will start from the Community Centre while the run will start from Bunscoil Mhuire, one mile from the registration point. Due to race insurance requirements, the race is only open to runners and walkers who are over 16 years of age.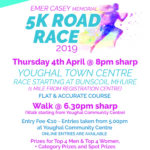 This is a flat and accurate course and will be fully timed. It is also a scenic course which runs through the historic seaside town of Youghal. Refreshments will be served after the race at the Community Centre and the prizegiving will take place. There will be prizes for the top four men and top four women as well as further category and spot prizes.
Online registration is now open here.
All proceeds from the race will go to the ongoing work of the Emer Casey Foundation into the causes and treatment of ovarian/uterine cancer. Your support is much appreciated!